The Institute is delighted to announce our first foray into book publishing with 'Airport Enterprises: An Economic Analysis' written by David Starkie.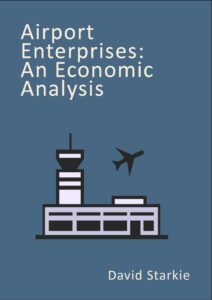 David has worked extensively on regulatory and competition issues particularly in the transport sector and is the author of acclaimed Aviation Markets: Studies in Competition and Regulatory Reform. He is a former deputy director general of transport for Western Australia, and has held university posts in the UK, Australia, Canada and Germany. He is a former associate member of the American Bar Association and has acted as expert witness in numerous legal disputes, was the EU's long-term economic advisor preceding two meetings of the Civil Aviation Environmental Protection Organisation and has advised parliamentary committees as well as aviation regulators in Ireland and, along with George Yarrow, in the UK. In this book he brings his decades of experience to bear.
'Airport Enterprises: An Economic Analysis' frames the airport firm as a business platform for a broad spectrum of commercial activities, some of which enjoy the characteristics of two-sided markets. This is in contrast to the usual application of welfare economics as an analytical lens for airports, a lens which is argued to be inappropriate for an industry with an international customer base. Also challenged is the consensus that airports are natural monopolies; cost functions are not necessarily sub-additive, additional capacity is added mostly in small increments, and new entry feasible as a result of product diversification or negotiating parties striking long term pricing contracts. Finally, a number of questions are raised about current public policy, the standard interpretation of economic rents at congested airports, and existing plans for adding capacity at London Heathrow airport.
We hope that those of our members and supporters interested in or working in the aviation and other regulated sectors will find much in this book to aid their thinking and we look forward to the conversations it will produce at future RPI gatherings.
'Airport Enterprises: An Economic Analysis' is available on Amazon as an e-book (£9.99) or in paperback format (241pp, £29.99). To find out more, or to purchase the book just follow the link below. Alternatively, you may contact seminars@rpireurope.org for a discounted rate for paperbacks.